by Pam Martens and Russ Martens
Wall Street on Parade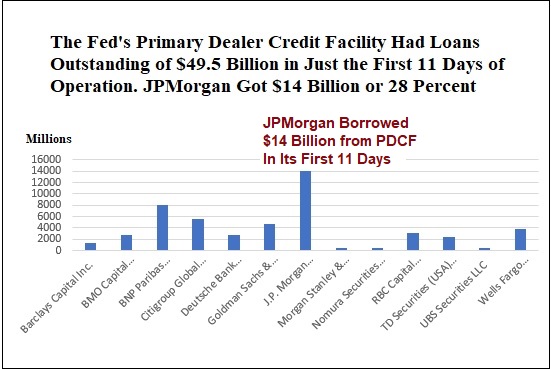 Throughout 2020, Fed Chair Jerome Powell repeatedly testified to Congress that the banks in the U.S. had proven to be a "source of strength" during the pandemic. Last Thursday the Fed released the names of the banks and dollar amounts they had needed to borrow under some of the Fed's emergency loan operations. The data showed that units of two of the largest depository banks in the country, JPMorgan Chase and Citigroup, had required vast sums from the Fed's emergency repo loan operations as well as its Primary Dealer Credit Facility (PDCF).
In the Fed's first report to Congress on its Primary Dealer Credit Facility which provided a dollar amount outstanding, the Fed reported that "the total outstanding amount" as of April 14, 2020 was $34.5 billion. The PDCF was announced on March 17, 2020 and began making loans on March 20, 2020.