by Pam Martens and Russ Martens
Wall Street on Parade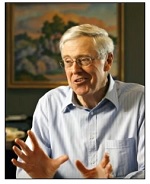 On March 8, Wall Street On Parade reported that despite announcements by British Petroleum (BP), Shell and ExxonMobil that they were cutting business ties to Russia in response to Russia's brutal invasion of Ukraine, another oil conglomerate, Koch Industries, remained silent.
Koch Industries is the privately-owned cash cow that has fueled the infamous "Koch Brothers" creepy intrusions into every nook and cranny of American politics, using labyrinthine layers of well-financed front groups. The oldest brother, Charles Koch, whose personal wealth is estimated at $53 billion according to Forbes, remains at the helm of Koch Industries and a sprawling political power base. David Koch died in 2019.