by Pam Martens and Russ Martens
Wall Street on Parade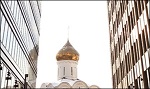 As the headlines in mainstream media grew ever more alarming in late 2021 regarding Russia's troop buildup around Ukraine, approximately $225 million per day (or $13.7 billion over a span of 61 days) had been waged in bets that Russia might default on its sovereign debt. These bets are known as Credit Default Swaps and can be used to hedge exposure or simply speculate on a debt default in hopes of making a profit.
This information resides in a publicly-available swap repository maintained by the Depository Trust and Clearing Corporation (DTCC). For the period of September 20, 2021 through December 19, 2021, the DTCC shows that an average of 26 trades per day were being made in the Credit Default Swaps on the Russian Federation's sovereign debt, for a daily total of $225 million notional (face amount of credit default swaps).
The $225 million daily notional is defined as follows by the DTCC: