by Mac Slavo
SHTF Plan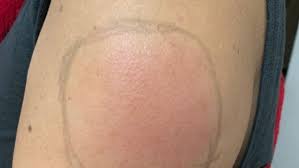 When it comes to the experimental gene therapies being falsely labeled as "vaccines," the side effects are becoming known. One side effect is "COVID arm" but the mainstream media puppets are telling us that it's completely normal. But is it?
According to Yahoo News, people who have the Moderna coronavirus "vaccine" should not be alarmed if unusual plaques develop on the arm they received the shot in. It's fine it's just "COVID arm." This side effect is described as swelling and often itchiness and a lump forming as the skin reddens after the inflammatory response. "That just means the 'vaccine' is working," they say.
COVID-19 mRNA Shots Are Legally Not Vaccines
Writing in the journal JAMA Dermatology, medics from Yale New Haven Hospital in Connecticut reported 16 people who developed so-called COVID-arm – defined as itchy, painful, and swollen "pink plaques" – several days after getting vaccinated. That number has to be much higher if their numbers who have taken the jab are accurate.
Continue Reading at SHTFPlan.com…