by Greg Hunter
USA Watchdog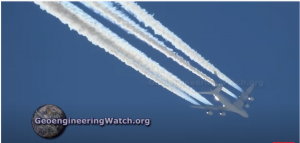 A few weeks ago, I interviewed Dane Wigington, geoengineering researcher and founder of GeoEngineeringWatch.org, about what he calls "Weather Warfare." One of the topics was the heavy snow in Texas last month and freezing temperatures during that time that were 30 degrees colder than the North Pole. Wigington says it looks like more Weather Warfare took place recently around Denver, Colorado. It's all part of man-made climate control called geoengineering.
Wigington is out with a new documentary that cost $100,000 to put together called "The Dimming." Please take time to watch it. I am embedding it below from Wigington's YouTube channel. Part of Wigington's write up is below:
"Global climate engineering operations are a reality. Atmospheric particle testing conducted by GeoengineeringWatch.org has now proven that the lingering, spreading jet aircraft trails, so commonly visible in our skies, are not just condensation as we have officially been told. Over 75 years ago global powers committed the planet and populations to a climate engineering experiment from which there is no return. The intentional dimming of direct sunlight by aircraft dispersed particles, a form of global warming mitigation known as "Solar Radiation Management", has and is causing catastrophic damage to the planet's life support systems.