from Zero Hedge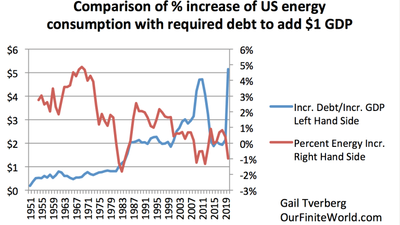 Authored by Gail Tverberg via Our Finite World blog,
A $1.9 trillion stimulus package was recently signed into law in the United States. Can such a stimulus bill, plus packages passed in other countries, really pull the world economy out of the downturn it has been in 2020? I don't think so.
The economy runs on energy, far more than it operates on growing debt. Our energy problems don't appear to be fixable in the near term, such as six months or a year. Instead, the economy seems to be headed for a collapse of its debt bubble. Eventually, we may see a reset of the world financial system leading to fewer interchangeable currencies, far less international trade and falling production of goods and services. Some governments may collapse.