by Pam Martens and Russ Martens
Wall Street on Parade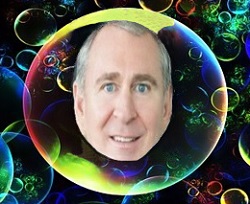 The billionaire hedge fund titan of Citadel LLC and its market-making/trade execution arm, Citadel Securities, delivered a load of horse pukky in his written testimony to the House Financial Services Committee. Griffin is slated to appear as one of six witnesses at the hearing scheduled at noon today to examine the trading in shares of GameStop in January.
GameStop is the brick-and-mortar video game retailer whose stock soared from $18.84 on December 31 of last year to an intraday high of $483 on January 28 – an unprecedented run of 2,465 percent in four weeks by a struggling retail outlet. The stock price then quickly plunged back to earth. It closed yesterday at $45.94.
GameStop is listed on the New York Stock Exchange. Its shares are not supposed to trade like a penny stock operated out of a boiler room. The contours of today's hearing are an indictment of what Wall Street watchers have been warning about for the past decade: markets are dangerously rigged in the U.S.