by Pam Martens and Russ Martens
Wall Street on Parade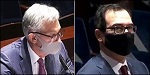 Five days before Congress passed the CARES Act on March 25 of this year, President Donald Trump issued an Executive Memorandum giving U.S. Treasury Secretary Steve Mnuchin complete discretion to use $50 billion in the Treasury's Exchange Stabilization Fund (ESF) as Mnuchin solely saw fit. The Memorandum was dated Friday, March 20. On the prior Tuesday and Wednesday of that same week, Mnuchin had already used $20 billion of the Exchange Stabilization Fund to bail out Wall Street. As Mnuchin's letter of November 19 to Fed Chair Jerome Powell confirms, he gave (or committed) $10 billion from the ESF to the Fed's Commercial Paper Funding Facility on March 17 and another $10 billion to another Fed emergency lending program, the Money Market Mutual Fund Liquidity Facility, on March 18.
Most Americans have never heard of the Treasury's Exchange Stabilization Fund (ESF), a slush fund available to the sitting U.S. Treasury Secretary since 1934. The ESF has grown from $94.3 billion in assets prior to Trump taking office to $682 billion as of September 30, 2020. As recently as March 31, 2007, the ESF had assets of just $45.9 billion, meaning it has grown by a factor of more than 14 times in 13 years.
Continue Reading at WallStreetOnParade.com…