from Zero Hedge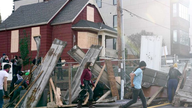 Though already long tolerating such brazenly threatening actions and city section 'takeovers' by Antifa, Portland Mayor Ted Wheeler announced Tuesday: "There will be no autonomous zone in Portland."
But it yet again appears too late as according to the Associated Press:
[…] This is the area now being dubbed by the far Left activists as the newest 'autonomous zone' after prior short-lived similar attempts. It also comes after last summer's headline-grabbing chaos centered on Seattle's so-called Capitol Hill Organized Protest, or CHOP, which police didn't take back till weeks later.
On Tuesday evening Mayor Wheeler vowed to remove both protesters and squatters on North Mississippi Avenue Tuesday by "all legal means" possible.
But judging by the videos coming out, it appears the police are being beaten back.