by Pam Martens and Russ Martens
Wall Street on Parade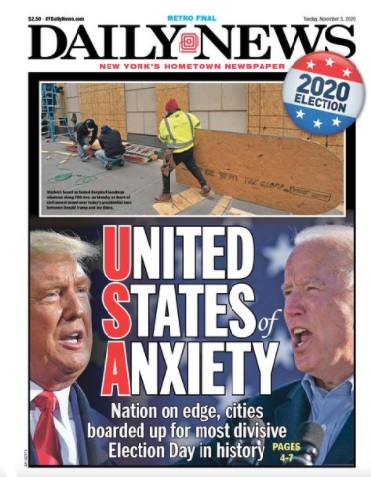 The eagerly anticipated and yet also dreaded day has finally arrived. In the interest of preserving this day lest post-traumatic-stress-disorder kicks in and eviscerates the nightmares of the last four years from our memory banks, we thought we would capture in photos the vibes of what the American presidential election has come to.
The front cover of the New York Daily News, in the photo above, perfectly captures the queasy stomachs that the majority of Americans are experiencing today. But in an utterly bizarre action, at 6:50 a.m. this morning, futures on the Dow Jones Industrial Average were suggesting that the stock market would open up more than 400 points. There is definitely some invisible hand buying up futures on maximum leverage to move the market higher this morning.