from Zero Hedge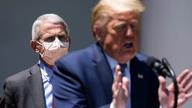 During a conference call with campaign staff that White House reporters were bizarrely allowed to listen in on, President Trump complained that "there's a bomb" every time Dr. Anthony Fauci goes on television, which is most days.
This is far from the first time President Trump has complained about the good doctor. But it might be the first time he's offered some direct commentary on exactly why he won't fire Dr. Fauci, even as Trump seems to have moved on with a new COVID-19 advisor, Dr. Scott Atlas, who has faced persecution by Big Tech for his views on how to approach COVID-19.
Though he conceded that the good doctor is "a nice guy" who has "been around for 500 years", Trump said the problem with Dr. Fauci is that every time he goes on TV "there's a bomb", yet if you fire him, "there's an even bigger bomb".