by Pam Martens and Russ Martens
Wall Street on Parade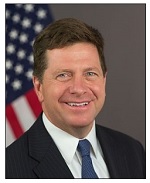 Is the Chair of the Securities and Exchange Commission, Jay Clayton, a watchdog or a lapdog? If you judge him by his actions since taking office on May 4, 2017, it looks like the latter. That was easily predictable given that Clayton had represented 8 of the 10 largest Wall Street banks in the three years prior to taking his seat as Chair of the SEC.
Clayton is also the man who is now attempting to elevate his role to that of the top criminal prosecutor in Wall Street's home turf of Manhattan, by knocking Geoffrey Berman out of the job. That office is the U.S. Attorney's Office for the Southern District of New York where there are pending investigations related to both Donald Trump as well as Clayton's former clients, the big banks on Wall Street.