from Zero Hedge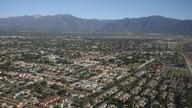 What happens when your state or city has massive unfunded pension liabilities, no direct access to the Fed's money printer and can't tax your state any further because you're driving people out in droves?
You take on more debt, using whatever you can think of as collateral.
Such was the case in West Covina this July, where the city is paying off its $205 million debt to CalPERS by issuing bonds using its city streets as collateral, according to Forbes. The city of Torrance has done the same thing; it will issue $350 million in bonds using its streets as collateral, as well.
Both cities are using something called "lease revenue bonds" which means that:
Continue Reading at ZeroHedge.com…