by Joel B. Pollak
Breitbart.com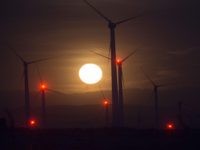 California Gov. Gavin Newsom said Monday that the state had to "sober up" about the fact that renewable energy sources had failed to provide enough power for the state at peak demand, and needed "backup" and "insurance" from other sources.
Newsom addressed journalists and the public in the midst of ongoing electricity blackouts that began on Friday, as hundreds of thousands of Pacific Gas & Electric (PG&E) customers in northern and central California lost power.
There is currently high demand for electricity across the state, as the entire West Coast has been hit by a heat wave and record-breaking temperatures.
One reason the state lacked power, officials admitted, was its over-reliance on "renewables" — i.e. wind and solar power.
Continue Reading at Breitbart.com…