from Zero Hedge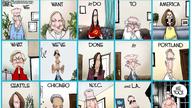 Authored by Raul Ilargi Meijer via The Automatic Earth blog,
A Pew Research Center poll that's already a month old (and a lot happened since) concluded that violent crime is a major issue according to 59% of voters (almost as much as coronavirus): 74% of Republicans and 46% of Democrats. But during the DNC, held after the poll was already out, the issue wasn't addressed at all. Democrats talked about police violence, but not riot violence.
At this week's RNC, this situation is -of course- very different. The DNC pushes the GOP into the role of the party of law and order, and they're all too willing to take up that role. But I was wondering about something else, or "bigger", this morning. That is, Joe Biden et al are very light on policies, because in their view their most important issue is to get people to vote *against* Donald Trump, rather than *for* Biden.
Continue Reading at ZeroHedge.com…