from Zero Hedge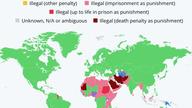 51 years on from the Stonewall Riots, global celebrations to remember the event that kickstarted the gay rights revolution have been curtailed due to the coronavirus. The first pride parade occurred a year later and on the 50th anniversary of that occasion, it is thought that the only such march will occur in Taiwan where Covid-19 has largely been contained.
Globally, a lot has been achieved in the fight for gay rights in recent years but as Statista's Niall McCarthy shows in the following map, there is a lot more work to do.
According to ILGA, an international federation campaigning for LGBT rights, homosexuality is punishable by up to eight years in prison in 31 countries and 10 years to life in prison in another 10 countries.
Continue Reading at ZeroHedge.com…