by Pam Martens and Russ Martens
Wall Street on Parade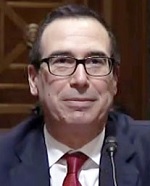 President Donald Trump has been sacking federal watchdogs at the speed of a bullet train. In just a six-week period in April and May, the President fired five Inspectors General of federal agencies. In last Friday night's coup d'état, Attorney General William Barr, acting as consigliere for the President, ousted the U.S. Attorney for the Southern District of New York, the federal prosecutor that oversees prosecutions of Wall Street banks in that district. The privately owned Federal Reserve Bank of New York, which is in charge of the bulk of the Fed's bailout programs, also resides in that district.
Barr and the President want to put a man with zero experience as a prosecutor in charge of that office, Jay Clayton, who currently heads the Securities and Exchange Commission which has only civil enforcement powers. Clayton represented 8 of the 10 largest Wall Street banks in the three years before going to the SEC as a partner at Sullivan & Cromwell.
Continue Reading at WallStreetOnParade.com…