by Pam Martens and Russ Martens
Wall Street on Parade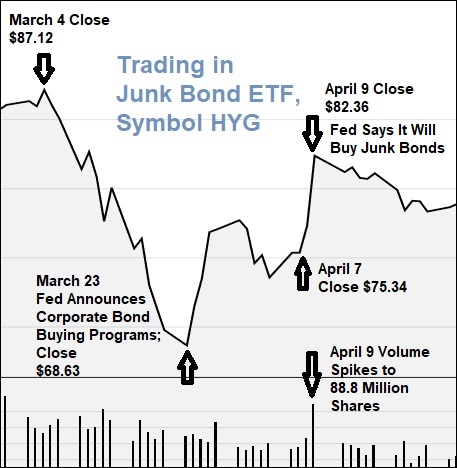 Thus far, the highly controversial corporate bond buying programs that the Federal Reserve first announced on March 23 have yet to spend a dime according to a spokesperson for the New York Fed, the regional Fed bank that is overseeing almost all of Wall Street's emergency bailout programs today as well as during the financial crash of 2007 to 2010.
But as the above chart indicates, just a promise from the Fed to spend billions removing toxic waste from Wall Street's mega banks is enough to put a bid back in the junk bond market.
Here's the skinny on how the Fed propped up both the Dow and the junk bond market with its well-timed announcements on March 23 and April 9.
From the close on March 4 to the close on March 23, the junk bond exchange traded fund (ETF) which goes by the fancy title of "iShares iBoxx High Yield Corporate Bond ETF," or symbol HYG, lost 21 percent of its value.