Retail demand jumps as people turn to gold as a store of value
by Justina Vasquez
Bloomberg.com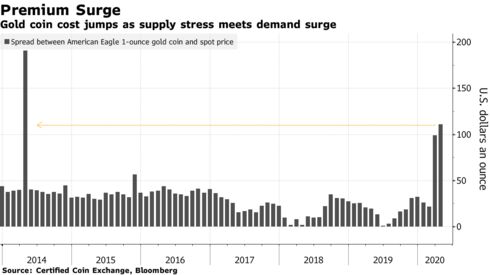 Retail investors can't seem to get enough of gold during the coronavirus crisis, and they are willing to pay staggering amounts to get their hands on it.
Consumers who want to buy gold coins typically have to pay more than the per-ounce prices quoted on financial markets in London and New York. That premium has jumped to $135, more than tripling from two months ago, said Robert Higgins, chief executive officer at Argent Asset Group LLC in Wilmington, Delaware.
"There has never been a time for American Gold Eagles at this premium level," Higgins said in an interview, referring to the popular U.S. bullion coin.