by John W. Whitehead
The Rutherford Institute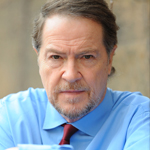 "The fact is that the government, like a highwayman, says to a man: Your money, or your life. And many, if not most, taxes are paid under the compulsion of that threat. The government does not, indeed, waylay a man in a lonely place, spring upon him from the road side, and, holding a pistol to his head, proceed to rifle his pockets. But the robbery is none the less a robbery on that account; and it is far more dastardly and shameful." – Lysander Spooner, American abolitionist and legal theorist
Cash may well become a casualty of the COVID-19 pandemic.
As these COVID-19 lockdowns drag out, more and more individuals and businesses are going cashless (for convenience and in a so-called effort to avoid spreading coronavirus germs), engaging in online commerce or using digital forms of currency (bank cards, digital wallets, etc.). As a result, physical cash is no longer king.
Yet there are other, more devious, reasons for this re-engineering of society away from physical cash: a cashless society—easily monitored, controlled, manipulated, weaponized and locked down—would play right into the hands of the government (and its corporate partners).