by Pam Martens and Russ Martens
Wall Street on Parade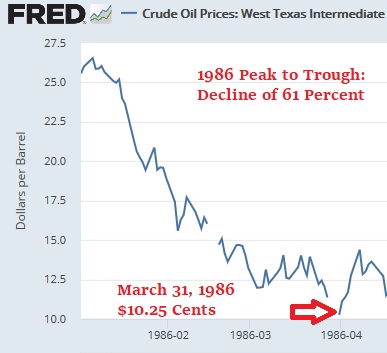 In early afternoon trading, West Texas Intermediate, the domestic crude oil in the U.S., had lost over 20 percent on the day, 39 percent in the last 18 calendar days and 48 percent from its peak this year. The panic selling resulted from a failed OPEC meeting with its allies last week when Russia refused to go along with crude oil production cuts proposed by OPEC to shore up the price of crude. Following the failed meeting, Saudi Arabia began to dramatically discount its oil prices to customers to grab market share. It reminded me of an earlier Saudi oil price war in 1986 – without the coronavirus to add to the panic.
In 1986 I was working at Shearson with newly acquired stock and commodity licenses. I had the good fortune of sitting next to a very savvy female oil trader who had one phone in one ear to the NYMEX (then called the New York Merc) and another phone in the other ear to her oil client.