by Pam Martens and Russ Martens
Wall Street on Parade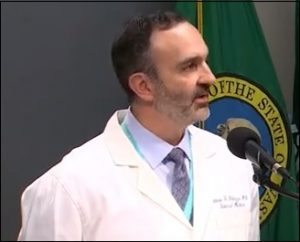 Ettore Palazzo, M.D., Chief Medical and Quality Officer for EvergreenHealth in Kirkland, Washington, announced that a total of six patients diagnosed with coronavirus COVID-19 have now died of the virus. One of the deaths had been reported on Saturday and a second death was reported on Sunday. Four more have now died since then. Five of the deaths were in King County with one additional death in Snohomish County.
The King County Executive, Dow Constantine, said the county was in final negotiations to buy a motel to care for patients in need of isolation and recovery. He said the county was also going to be using modular housing in several locations around the county, including Seattle.
Dr. Jeff Duchin, a Health Officer for Public Health in King County, spoke at the press conference and said the county now has 17 CDC staff present in the county to assist local efforts to contain the spread of the virus.