from Zero Hedge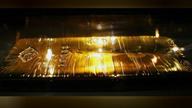 Over the past decade, one of the most fascinating observations in the world of precious metals has been the bizarre decoupling in the supply/demand dynamics and thus pricing, between paper and physical gold.
And, as we detailed yesterday, that decoupling has become extreme.
A surge in demand for physical gold – that results in precious metal vendors and exchanges becoming sold out in very short notices – has created shortages in some geographical locations that is stressing gold markets drastically.
Don't take our word for it. Even the venerable Financial Times reports that traders have reported and lamented a growing global shortage of gold bars, as the coronavirus outbreak both disrupts supply and stokes demand, "with one business comparing the frenzied buying of the yellow metal with the consumer rush for toilet roll."
Continue Reading at ZeroHedge.com…