by Pam Key
Breitbart.com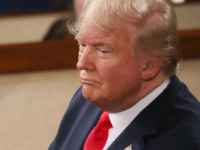 President Donald Trump commented on Speaker Nancy Pelosi's (D-CA) criticisms of him at his coronavirus press conference Wednesday night.
A reporter asked, "What is your response to Speaker Pelosi, who said earlier today you don't know what you're talking about about the coronavirus? I'm also wondering if you'd want to address critics who say you can't be trusted about what your administration is saying?"
Trump said, "I think Speaker Pelosi is incompetent. She lost the Congress once. I think she's going to lose it again. She lifted my poll numbers up 10 points. I never thought i would see that so quickly and so easily. I'm leading everybody. We're doing great. I don't want to do it that way. It's almost unfair if you think about it. But I think she's incompetent and I think she's not thinking about the country.
Continue Reading at Breitbart.com…