by Pam Martens and Russ Martens
Wall Street on Parade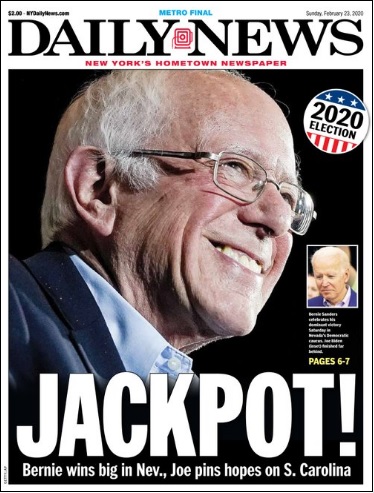 One month ago former presidential candidate Hillary Clinton confirmed to Hollywood Reporter Lacey Rose that the remark she had made in a recent documentary that "nobody likes" Senator Bernie Sanders was still her assessment of the situation. That assessment was silly a month ago and became even more nonsensical yesterday morning as newspapers landed in driveways across America showing a massive win for Sanders in the Nevada caucuses, including big support from both whites and minorities.
According to Newsweek, Sanders' win in the Nevada Caucuses on Saturday "made political history." He became the first presidential candidate, from either party, "to win the popular vote in all three early states in a competitive primary."
But Sanders didn't simply win Nevada – he crushed the contest. With 88 percent of the vote now in, Sanders has captured 47.1 percent of the county convention delegate votes versus 21 percent for former Vice President Joe Biden; 13.7 percent for Pete Buttigieg; 9.6 percent for Senator Elizabeth Warren; 4.7 percent for Tom Steyer; and 3.9 percent for Amy Klobuchar.
Continue Reading at WallStreetOnParade.com…