by Pam Martens and Russ Martens
Wall Street on Parade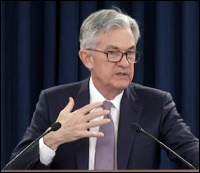 Congresswoman Katie Porter opened a hornet's nest on Tuesday during a House Financial Services Committee hearing where Fed Chair Jerome Powell answered questions. As we reported, Porter held up a photo of Powell in black tie attending a lavish party for billionaires and politicians at the Washington D.C. home of one of the richest men in the world, Amazon CEO Jeff Bezos. As it turns out, that wasn't even the worst part of the story. The real jaw dropper is that the Bezos party was the after-party for a secretive private club's annual dinner. The so-called Alfalfa Club is a 107-year old, invitation-only club that bars the press from attendance and banned membership of blacks and women for the bulk of its existence. Fed Chair Powell is a member of that club. More on that shortly, but first some background.
There is a constant refrain at the press conferences held by Federal Reserve Chairman Jerome (Jay) Powell that the role of the Federal Reserve is "to serve the American people." In the wake of constant Tweet lashings against him from President Donald Trump that he's not lowering interest rates fast enough, Powell has also gone out of his way to emphasize that the Fed will remain independent. And to bolster public confidence in the Federal Reserve, since February 25 of last year, the Fed launched a public relations campaign called "Fed Listens," which it describes as follows:
Continue Reading at WallStreetOnParade.com…