from Zero Hedge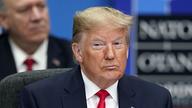 President Trump's legal team filed a lengthy legal brief on Monday in which they have asked for a 'speedy acquittal' from the Senate, as they begin impeachment proceedings on two articles advanced by the House after a four-week delay.
Trump's legal team notes that the impeachment articles fail to cite any violation of the law, and the charge that Trump obstructed Congress was a "frivolous and dangerous" attempt to alter the separation of powers outlined by the framers in the Constitution, according to CNN.
The briefing comes one day after Trump's legal team filed a shorter document on Saturday which laid out their arguments against impeachment – calling it "constitutionally invalid" and an attack on Americans.
Continue Reading at ZeroHedge.com…