by Pam Martens and Russ Martens
Wall Street on Parade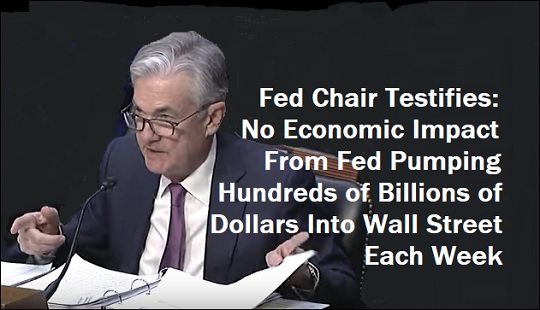 The S&P 500 Index and the Dow Jones Industrial Average set new record highs every single day last week. This occurred despite the Federal Reserve justifying its unprecedented hundreds of billions of dollars each week in cheap loans to Wall Street's trading houses as necessary to stem a "liquidity" crisis.
You can't have a liquidity crisis when the stock market is setting record highs for an entire week. Those two things just don't correlate.
The Fed, through its money spigot, the New York Fed, began sluicing these funds to Wall Street on September 17, the day the overnight borrowing rate in the repurchase agreement (repo) loan market spiked from 2 percent to 10 percent. This was the first such intervention by the Fed since the financial crisis. The repo market is where banks, hedge funds and money market funds loan each other money overnight on the basis of good collateral like U.S. Treasury securities.