U.S. Gold Corp. (NASDAQ: USAU) is pleased to announce it has closed the acquisition of Orevada Metals, Inc. ("Orevada Metals") in an all share transaction. Orevada Metals is, a Nevada corporation, wholly owned by a privately held Canadian company ("Orevada"), which has become a new wholly-owned subsidiary of U.S. Gold Corp. Orevada has an option to acquire a 70% interest in the Maggie Creek Project.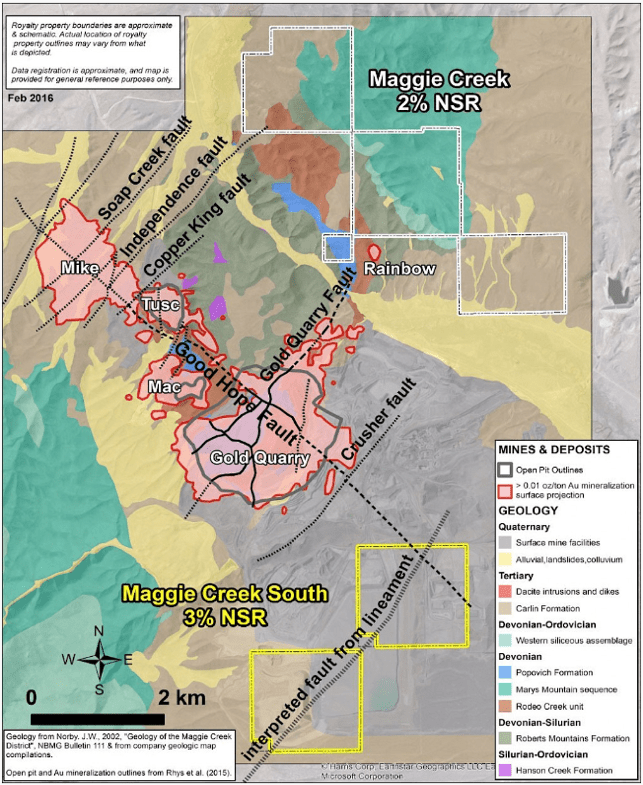 The acquisition of Orevada and the option to acquire the Maggie Creek Project, gives U.S. Gold Corp. its second promising exploration project in Nevada, on the Carlin Trend. The Maggie Creek Project is located in the heart of the Carlin Trend, immediately adjacent to Newmont Mining's (NYSE: NEM) 26-million-ounce Gold Quarry mine. The Project occurs along the northeast projection of the Gold Quarry fault zone, which is an important mineralizing control at the Gold Quarry mine, indicating significant potential to discover Carlin style gold deposits in one of the world's most sought-after gold districts. The recent discoveries at Carlin (Leeville) and Gold Quarry (Chukar) demonstrate the potential for high-grade deposits at depth – mostly untested at Maggie Creek. Newmont's Rainbow deposit occurs immediately south of the Maggie Creek project boundary
Edward Karr is an international entrepreneur, the founder of several investment management and investment banking firms based in Geneva, Switzerland and has been active in the natural resource industry for years. Ed has significant experience in serving as a Board member with numerous public companies. Currently, he is the President, CEO and Director of U.S. Gold Corp, a gold exploration and development company.
Click Here to Listen to the Audio
Continue Reading at MiningStockEducation.com…
TRANSCRIPT:
Bill Powers: Greetings and welcome back to Mining Stock Education. I'm Bill Powers, your host, and in today's episode we are going to be getting an update from one of our sponsors, U.S. Gold Corp. And we're going to be hearing from Ed Karr, the president, CEO, director and founder of U.S. Gold Corp.. Ed, welcome back to the show and you had a press release out a couple of days ago about an acquisition in Nevada. Please give us an update on that.
Ed Karr: Yeah, certainly will. Great to be back with you Bill, and we really appreciate the ongoing interest in the company and U.S. Gold Corp.. So yeah, it's an exciting time for us right now. It really is. Here we are mid September, 2019. As you point out, Bill, we just recently announced an acquisition, so we have acquired a company called Orevada Metals. And Orevada has an option on a very, very perspective gold exploration project that's called Maggie Creek. It is on the Carlin Trend in Nevada. So, right next to Gold Quarry, really, really big mine there. So, looks very, very perspective. This is U.S. Gold Corp., it's second high potential exploration project in Nevada, and we now have exploration projects on both the Cortez and the Carlin Trend. So, exciting time for us.
Bill Powers: Has this property been drilled thus far?
Ed Karr: It has, yeah. There's quite a history with Maggie Creek and the Maggie Creek Gold claims. You know, right next to it is Gold Quarry, which is a massive 26 million ounce deposit. So, world class. And with this acquisition, U.S. Gold Corp., we now control approximately three square miles of unpatented mining claims on the Carlin Trend. When you look at at some of the historic drilling, Bill, that has taken place here at Maggie Creek, there's a total of approximately 241 total historic drill holes. Of those, only 21 holes have drilled about down to a thousand feet and the majority of them, about 184 drill holes were 500 feet or less. And as you and the subscribers, your listeners know, that's a very common occurrence. The exploration methods 10, 20 years ago were pretty much shallow drilling, shallow holes, and now most geologists are realizing that these deposits can certainly be deeper, and that's what it really looks like for us the opportunity at Maggie Creek is.
Bill Powers: Your other a flagship property there in Nevada is the Keystone Project, and it was U.S. Gold Corp. that consolidated that and you of course were a key player in that. And now on this 20 square mile project, you are now drilling the first organized, thoroughly thought out drill program. Can you give us an update of what's going on and the status of this?
Ed Karr: Bill, I'd be happy to. And as you point out, U.S. Gold Corp. is the very first company to completely consolidate the Keystone district. Again, that's on the Cortez Trend, about 10 miles South of Barrick Gold's Cortez Hills Complex. Big project, district scale, 650 mining claims, so about 20 square miles there. And we are on our fourth exploration season right now. We've done a tremendous amount of work over the last three going on four years. So, we've done mapping led by Tom Chapin, he was former Barrick Gold and a very, very senior project geologist and mapper. For three years, Tom mapped the entire project. We've done geophysics led by Jim Wright. Multiple gravity surveys for interpretation. A lot of geochemistry led by contract geologists. Brion Theriault has been out on the project picking up rocket chip soil samples. Joe Laravie has created digital maps for us and our project geologists Ken Coleman is out on the project today running the drill program.
So we have drills turning, we have developed real targets over the last four years. The end of last year we received our plan of operations, so from a permitting standpoint we have the entire district open for us to exploration, and we believe, we hope we are very close, Bill, to discovery success. We are quite excited about our 2019 exploration program. We are currently right now on our fifth drill hole, so we've completed four. We're moving to five. As we drill these holes, the core chip samples go to the assay laboratories and we hope to have these assays back sometime, let's say mid to end of October.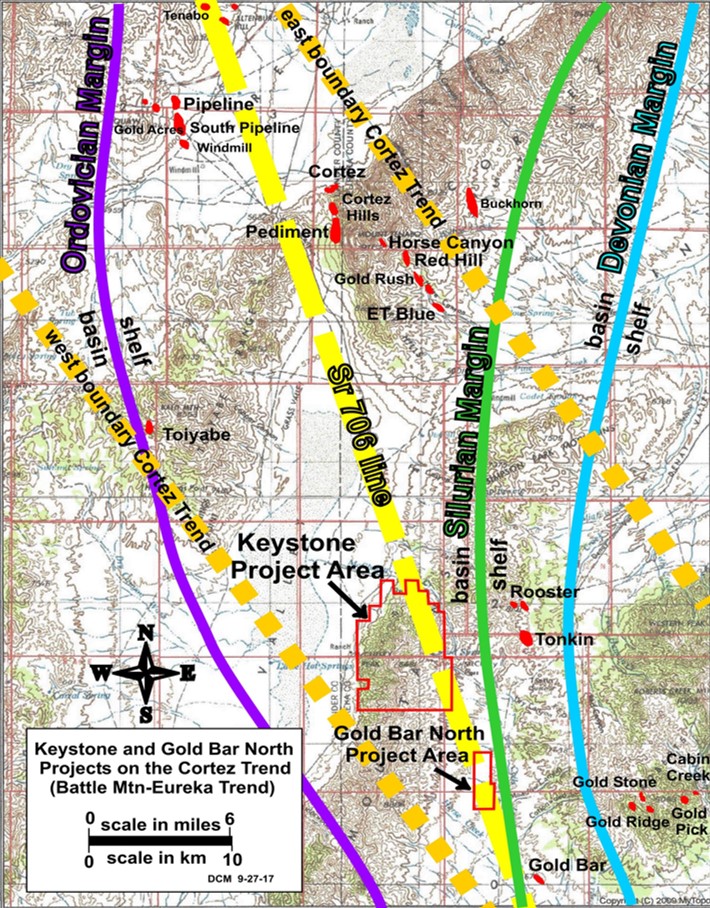 Bill Powers: Are the assay labs a little backed up, perhaps, because of increased drilling in Nevada this year?
Ed Karr: Yeah, good point Bill. You know with the price of gold obviously busting through $1,500, little more focus activity in the sector, there's certainly been a a flurry of exploration this year. More people drilling, more projects, more excitement. So, the assay labs certainly are busy. They seem to have a good handle on it. We're hoping we don't have any major delays, but there is more activity and it's just indicative of this kind of overall natural resource market heating up.
Bill Powers: So a future drill program at Keystone would be determined after we see the results and the geological team interprets those results?
Ed Karr: That's exactly it. So once we get these assays back, Ken Coleman in conjunction with the entire team and our outside consultants will look at this, kind of interpret them. Obviously success would be if we drill into a major high-grade feeder zone and we have a good intercept, but if not, we'll look at the indications. We'll look at the geology and then we will design our phase two 2019 program which will probably take place late fall
Bill Powers: U.S. Gold Corp. also has the Copper King project in Wyoming. This is a preliminary economic assessment stage project. Last time we talked, you were talking about maximizing and increasing the economics of this study. Could you give us an update on this project please?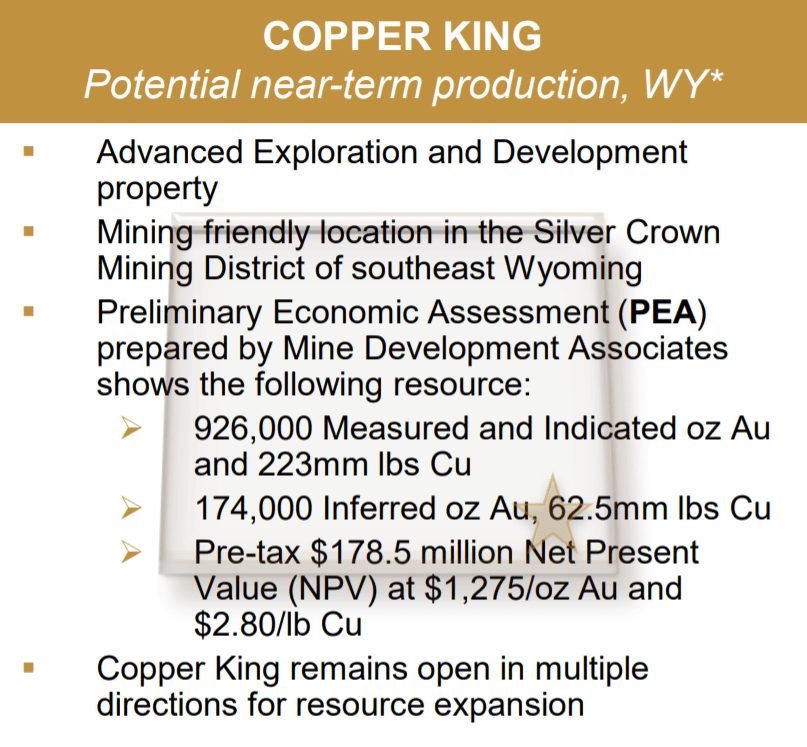 Ed Karr: Yeah, that's exactly right Bill. And so I was out in Wyoming on the project and in Cheyenne in mid-July with Secretary Ryan Zinke. We met with the governor of Wyoming, just still trying to get a lot of political support, a bunch of consultants out there from both mine engineering and permitting, met with the regulators. So, things are going quite well. I will be back in Wyoming next week. So, meeting with a couple of our leading consultants and we have hired now two of the leading guys out there to help us take Copper King from a preliminary economic assessment up to a pre-feasibility study. So that's being led by a gentleman named Marc LeVier. Marc was the former head of metallurgy at Newmont Mining and another gentleman, Mark Jorgensen. So, they're going to work with us on a proposal. We'll be doing some drilling at Copper King for metallurgy. We'll be looking at the optimal production scenario into this pre-feasibility study, really tightening up a lot of our economics and numbers coming up with a real definitive mine plan, and we're quite excited about it. We think as we take this project from a PEA to a PFS level, this is just going to give us a lot more confidence in the robustness of the resource and we'll have that out at some point in 2020. We believe it's going to create a lot of shareholder value for U.S. Gold Corp..
Bill Powers: Ed, we spoke about three months ago on this show and you laid out your macro thesis for a rising gold price and thus far you've been right. As we speak, it's $1,500 gold, which we haven't seen in six years. What are your thoughts on the current gold market?
Ed Karr: I think, Bill, we're in the first inning of a nine inning ball game. I really believe that the party's just getting started. It's never going to be straight up nor do we want it to go straight up. It'll move probably more stair staff will rise with the gold price and then consolidate for a little while. We did bump up to about $1,550, had a pull back here to $1,500, some of the junior exploration stocks had a little run in a pull back. Very, very normal, but I believe this market really has legs. When we look at the geopolitical landscape around the world, the indebtedness of central banks and of Western Europe, the United States, Japan, even China, there is a lot of reasons why institutions and individuals want to be long gold and I think prices are going to head a lot higher in the next couple of years.
Bill Powers: Ed, as we conclude, what are your final thoughts that you'd like to share with investors about U.S. Gold Corp. in Q4 coming up here?
Ed Karr: Yeah. Look Bill, it's an exciting time for us with this acquisition. We now have two great, great exploration projects in Nevada on two of the most premier, world famous gold trends. Project Keystone on the Cortez Trend, a new project, Maggie Creek on the world famous Carlin Trend. So that gives our potential investors the upside. Copper King in Wyoming, you can really hang your hat on the valuation and our resource there. We're on the NASDAQ, so a U.S. listed company on a major U.S. exchange with all U.S. projects. Great team, great board, great consultants outside geological team and advisors and we are just pushing forward towards discovery success. I'd say to everyone, continue to watch our news over the next couple weeks. These assay results could be very critical. If we can hit a discovery, this could be a real value creating event for the company. We still have a very tight market cap and share structure and we think we're in good position to deliver a lot of shareholder value.