by Charles Hugh Smith
Of Two Minds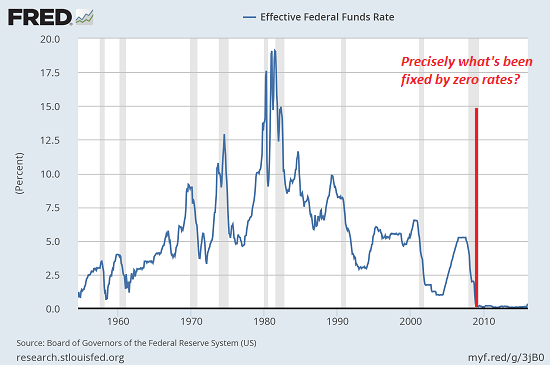 The priesthood's insane obsession with forcing people to spend their savings by punishing savers with ZIRP/NIRP has failed spectacularly for a simple reason: it completely misunderstands human psychology.
Let's start with a simple chart of the Fed Funds Rate, which the Federal Reserve has pinned near zero for years. This Zero Rate Interest Policy (ZIRP) is the god the PhD economists in the Fed and other central banks worship as the supreme force in the Universe, along with its even more severe sibling god, NIRP (negative interest rate policy), which demands that banks and depositors must pay for the privilege of holding cash.
Precisely what have ZIRP and NIRP fixed in the global economy? The short answer is "nothing." Instead of fixing what's broken, ZIRP and NIRP have pushed a broken system further along the path of self-destruction.