by Pam Martens and Russ Martens
Wall Street on Parade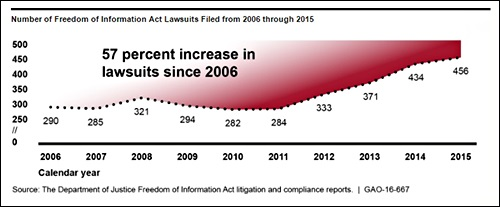 Last Thursday the Government Accountability Office (GAO) released a report showing that since President George W. Bush left office, lawsuits by persons who were unable to obtain Federal records that they believed belonged in the public domain grew dramatically. In 2008, the last year of Bush's presidency, 321 Freedom of Information Act (FOIA) lawsuits were filed. By 2014, that number had spiked to 434 lawsuits and registered 456 last year, an increase of 42 percent over 2008.
The numbers understate the public's frustration with Federal government stonewalling on public record requests. According to the GAO report, 713,168 FOIA requests were made by the public last year. Before one can file a FOIA lawsuit, one must file an administrative appeal with the agency that denied or partially denied the records sought. Average citizens have inadequate time and resources to engage in fighting an entrenched, stonewalling bureaucracy.