by Wolf Richter
Wolf Street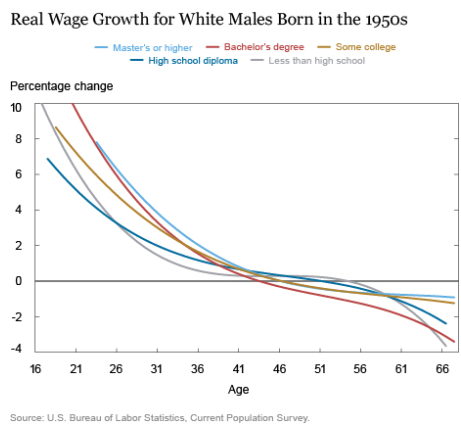 And the fate of the consumption-based US economy?
The New York Fed published an eye-opener of an article on its blog, Liberty Street Economics, seemingly about the aging of the US labor force as one of the big economic trends of our times with "implications for the behavior of real wage growth." Then it explained why "negative growth" – the politically correct jargon for "decline" – in real wages is going to be the new normal for an ever larger part of the labor force.
If you're wondering why a large portion of American consumers are strung out and breathless and have trouble spending more and cranking up the economy, here's the New York Fed with an answer. And it's going to get worse.
The authors looked at the wages of all employed people aged 16 and older in the Current Population Survey (CPS), both monthly data from 1982 through May 2016 and annual data from 1969 through 1981. They then restricted the sample to employed individuals with wages, which boiled it down to 7.6 million statistical observations.
Continue Reading at WolfStreet.com…