by Pam Martens and Russ Martens
Wall Street on Parade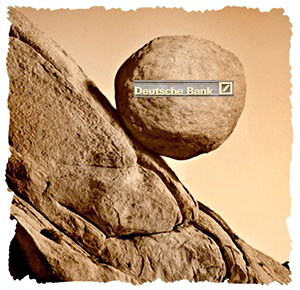 The old adage that when one is already in a hole, one should stop digging, has apparently not found its way to the corner offices of Deutsche Bank. After a non-stop two years of scandals, the Bank has decided to take its shareholders on another heart-thumping cop car chase by publicly feuding with the U.S. Justice Department. After the Wall Street Journal reported in the wee hours this morning that the Justice Department was proposing a fine of $14 billion for Deutsche Bank's involvement in tricking investors with toxic mortgage backed securities, the Bank had the tenacity to tell Reuters that it was planning to "fight" the demand. This negotiating tactic sounds a little like something that might have been taught at the Trump Institute.
In just the past two years, Deutsche Bank, Germany's largest bank with a large trading footprint in the U.S., has been terrifying widows and orphans – not to mention its shareholders. Two of its executives, William Broeksmit and Charles Gambino, hanged themselves. In June of this year the International Monetary Fund issued a report calling Deutsche Bank "the most important net contributor to systemic risks" on a global basis. In the same month, the U.S. Federal Reserve indicated that the U.S. unit of Deutsche Bank, Deutsche Bank Trust Corp., had failed its stress test. The Fed cited "material unresolved supervisory issues" as one of the reasons for the failed grade.