by Mike Gleason
Gold Seek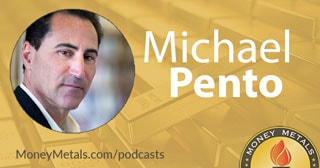 Mike Gleason: It is my privilege now to be joined by Michael Pento, president and founder of Pento Portfolio Strategies and author of the book The Coming Bond Market Collapse: How to Survive the Demise of the US Debt Market. Michael is a money manager who ascribes to the Austrian school of economics and has been a regular guest on CNBC, Bloomberg, and Fox Business News, among others.
Michael, it's good to talk to you again. Thanks very much for joining us today and welcome back.
Michael Pento: Thanks for having me back on.
Mike Gleason: Well to start off here, Michael, I want to get your thoughts on some of the economic data we're seeing out there and maybe you can explain some of the market action to us because there seems to be a lot of confusion.