by Pam Martens and Russ Martens
Wall Street on Parade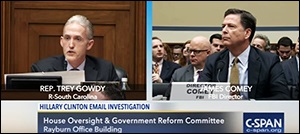 Just 18 days before the Democratic National Convention is set to convene in Philadelphia, where delegates and superdelegates will select the presidential candidate in one of the most critical elections in U.S. history — coming amidst signs of slowing economic growth and financial stresses where a strong, trusted leader will be needed to steer the country through major headwinds — the House Oversight and Government Reform Committee delivered Hillary Clinton's campaign a day from hell yesterday.
On hand to raise alarming questions about Clinton's fitness to handle classified national security material was FBI Director James Comey, State Department Inspector General Steve Linick and Charles McCullough, the Inspector General of the Intelligence Community.
Here's a cursory rundown of statements from the hearing that you are likely to see very shortly popping up in PAC ads for Donald Trump: FBI Director Comey added the word "negligent" to his previous assessment of "extremely careless" in describing how Clinton handled Top Secret material.
Continue Reading at WallStreetOnParade.com…