by Pam Martens and Russ Martens
Wall Street on Parade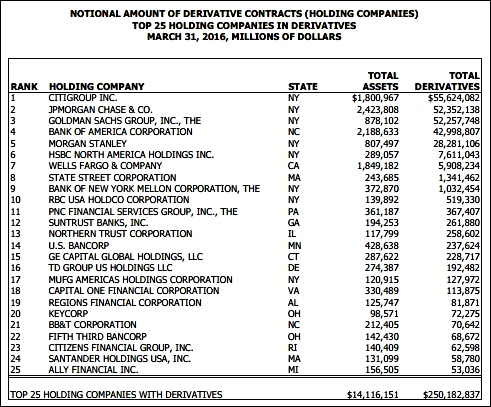 According to the Federal Deposit Insurance Corporation (FDIC), as of March 31, 2016, there were 6,122 FDIC insured financial institutions in the United States. Of those 6,122 commercial banks and savings associations, 4,701 did not hold any derivatives. To put that another way, 77 percent of all U.S. banks found zero reason to engage in high-risk derivative trading.
Citigroup, however, the bank that spectacularly blew itself up with toxic derivatives and subprime debt in 2008, became a 99-cent stock during the crisis, and received the largest taxpayer bailout in U.S. financial history despite being insolvent at the time, today holds more derivatives than 4,701 other banks combined which are backstopped by the taxpayer.
The total notional amount of derivatives sitting at Citigroup's bank holding company is $55.6 trillion according to the March 31, 2016 report from the Office of the Comptroller of the Currency (OCC), one of the regulators of national banks.
Continue Reading at WallStreetOnParade.com…