by Pam Martens and Russ Martens
Wall Street on Parade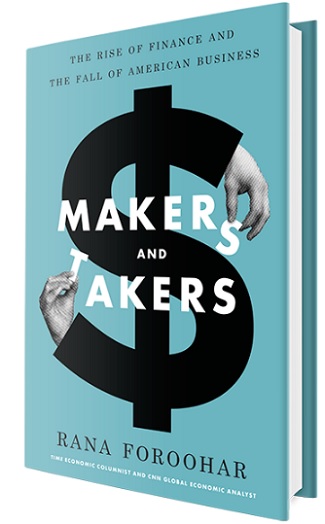 Rana Foroohar has written the equivalent of a public guide to why Americans remain mad as hell at Wall Street and Washington and why a lot worse than a political revolution may ensue if the plutocrats don't wake up soon. Foroohar is an assistant managing editor at Time magazine and its economics columnist. In "Makers and Takers: The Rise of Finance and the Fall of American Business," the author lays out a number of undeniable truths, which she backs up with footnotes and facts, such as: "the business of America isn't business anymore." That's given way to financial engineering tricks like loading up a company's balance sheet with billions of dollars of debt in order to prop up the share price with buybacks of the company's own stock.
Foroohar, who has been a financial journalist for 23 years, correctly concludes that Wall Street has come to "rule" rather than to "fuel" the real economy. This has created a "dysfunctional financial system" that is doomed to another collapse, "taking us all down with it," unless critical repairs are made soon. Foroohar maps out exactly what those repairs must be in her last chapter.