by Pam Martens and Russ Martens
Wall Street on Parade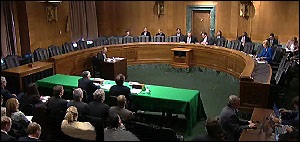 There are 15 U.S. Senators who are members of the U.S. Senate Banking Committee's Subcommittee on Securities, Insurance, and Investment that has been investigating the charges that the stock market is rigged by the stock exchanges along with dark pools run by large broker-dealers that are operated as opaque, unregulated quasi stock exchanges, high frequency traders at hedge funds, conflicted payment for order flow, and tricked-up order types – to mention just a few of the ways the public investor is getting fleeced.
The Subcommittee held a critically important hearing yesterday to review what progress the Securities and Exchange Commission (SEC) and the Financial Industry Regulatory Authority (FINRA), the self-regulatory Wall Street watchdog, were making to rein in the abuses on Wall Street.