by Pam Martens
Wall Street on Parade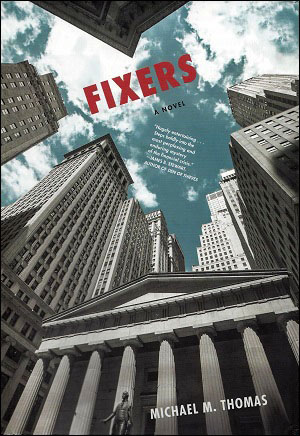 At Wall Street On Parade we call it continuity government. Michael M. Thomas, in a new book of quasi-fiction, calls it Fixers, the idea that no matter who comes and goes in the Oval Office, Wall Street has a fix in to make sure it is protected. The Thomas book could not come at a more inconvenient time for outgoing President Obama and the next leg of the continuity government that Wall Street hopes to install in the White House – otherwise known as Hillary Clinton.
Fixers notes that the characters with speaking parts in the book are "wholly creatures of the author's imagination and invention" but the securities "transactions and situations" in which those characters are involved are "matters of historical record."
So what you're getting in Fixers is a spellbinding analysis of the actual dirty deals that toppled Wall Street in 2008 with a new twist – a fictitious character who says he laundered $75 million into the Democratic presidential campaign of Hillary Clinton's primary challenger in 2007 in exchange for three names on an index card.