from The Identity Theft Warriors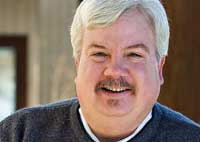 Rob Douglas is a nationally recognized identity theft expert and information security consultant specializing in the investigation and prevention of identity theft. He is one of the nation's leading authorities on the use of social engineering and pretext to steal personal information. Rob has been designated a Certified Identity Theft Risk Management Specialist (CITRMS) by the Institute of Consumer Financial Education.
Rob has provided consultation and expert testimony for civil and criminal investigations involving identity theft brought by private parties, state and federal law enforcement agencies. He served as a consultant and expert witness for the Federal Trade Commission in the design and execution of Operation Detect Pretext – a sting operation to catch and prosecute information thieves working in the underground information industry. Rob served as an expert witness to the Florida Statewide Grand Jury on Identity Theft and as a consultant and expert witness in Remsburg v. Docusearch, Inc., a federal suit involving the murder of Amy Boyer by a stalker who purchased her personal information from an Internet information broker.
To keep your identity safe now go to www.KeepMyID.org and be sure to use the Code: FSN2.
Click Here to Listen to the Audio
Sign up (on the right side) for the instant free Financial Survival Toolkit and free weekly newsletter.