by Charles Hugh Smith
Of Two Minds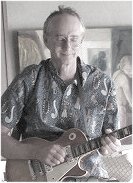 All of which sounds very pretty indeed, but it does raise a question: can risk really be destroyed, or can it only be transferred? And if it can only be transferred, then what's it been transferred to?
What a remarkable moment in time: every asset is lofting higher, with no limits in sight. The path ahead is already well-scouted: the U.S. economy will add a million jobs a month until the cows come home, Covid will continue fading until it basically disappears as an issue, the dollar and volatility will continue their death-march toward zero (good for risk assets), oil and commodities are entering a new super-cycle of growth, as are stocks, bonds (now that pesky yields are falling), cryptocurrencies and housing– all are entering super-cycles of high growth and essentially limitless expansion of speculative gains.
It's dreadful having a skeptical default setting, but there you have it: what could go awry? Seemingly nothing. Everything's accounted for and for anything out of the blue, we have the trusty Fed Put, the Federal Reserve's implicit promise to crush any spot of bother with a wall of freshly issued dollars and near-infinite credit.
Look on our works, ye Mighty, and despair, for we are the greatest power in the Universe! Resistance is futile, and so on. Indeed.
Continue Reading at OfTwoMinds.com…