by Pam Martens and Russ Martens
Wall Street on Parade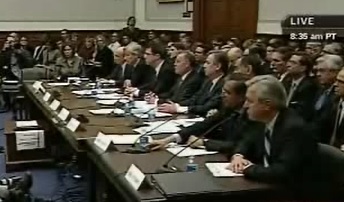 We've been closely monitoring the Senate Banking and House Financial Services Committees for the past 15 years. We can think of no other time when the Committees issued a joint statement to announce they were hauling the most powerful men on Wall Street to testify, without offering a scintilla of information on the topic of the hearing.
The press statement simply indicated that the Senate Banking Committee would hold its hearing on Wednesday, May 26 at 10 a.m. and the House Financial Services Committee would hold its hearing the following day on Thursday, May 27 at 12 noon.
The announcement indicated that the following CEOs are scheduled to testify: Jamie Dimon of JPMorgan Chase; David Solomon of Goldman Sachs; Jane Fraser of Citigroup; James Gorman of Morgan Stanley; Brian Moynihan of Bank of America; and Charles Scharf of Wells Fargo.
Continue Reading at WallStreetOnParade.com…