by Pam Martens and Russ Martens
Wall Street on Parade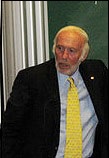 It has become clear from the ongoing drip, drip, drip of new revelations of what was going on behind the scenes of hedge fund Archegos Capital Management, its wealthy owner, Sung Kook (Bill) Hwang, and Wall Street's global banks, that the public has seen just the first act in what is certain to be a far more complex drama.
A summary of the basics of what the public has been told thus far sheds light on why the full Archegos story has yet to be revealed. According to major media reports, Archegos was obtaining leverage of more than 6 times the cash it was putting up as collateral to buy stocks that were held in accounts at a handful of Wall Street's largest banks. Through a privately negotiated derivatives contract, the banks claimed to technically own the stocks but the hedge fund, Archegos, selected the stocks, directed the trading in the accounts and got the upside as well as the downside of trading returns. In exchange, the bank collected a fee.
Continue Reading at WallStreetOnParade.com…