by Pam Martens and Russ Martens
Wall Street on Parade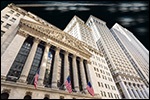 We rarely make predictions but we're going to make one with confidence today. The New York Stock Exchange's efforts to capture more market share of the IPO business by listing highly questionable Chinese companies and blank-check companies (SPACs) with no prior business history is going to inevitably blow up and cause long-term reputational damage to an institution that is indelibly linked to U.S. markets.
Despite U.S. markets now showing all the earmarks of unbridled corruption fueled by insatiable greed, anti-regulatory Republicans in Congress are still calling U.S. markets "the envy of the world" and demanding a hands-off approach. Rather than actually being "the envy of the world," the rest of the planet actually remembers that it was inadequately regulated U.S. markets that blew up the global economy in 2008.
RLX Technology, an IPO (Initial Public Offering) that had its debut on the New York Stock Exchange on Friday, January 22 of this year, is Exhibit Number 1 for what we are talking about.
Continue Reading at WallStreetOnParade.com…