by Charles Hugh Smith
Of Two Minds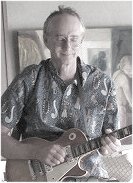 What happens when America finally admits its middle class is a phantom of feel-good fantasy? We may well find out in the next four years.
Of the many things we cannot bring ourselves to admit, one of the most consequential is that our vaunted middle class is illusory, a phantom of our imagination rather than a reality. The reality is the vast majority of the nation's wealth and income has been diverted from the middle class to those at the pinnacle of the wealth-power pyramid and the technocrat / financier insider class (the top 10%) that serves the interests of those at the pinnacle.
This transfer has accelerated rapidly in the 21st century as virtually all the real income gains of the past 20 years have flowed to the top 0.1%. This RAND study found that America's elites siphoned $50 trillion into their own pockets in the past two generations: Trends in Income From 1975 to 2018. (Please look at the "Fruits of Financialization" chart below.)
The earnings of the top 0.1% grew 15 times faster than the earnings of the bottom 90% (See chart below) as wages' share of the economy continues its 50-year decline.
Continue Reading at OfTwoMinds.com…