from Zero Hedge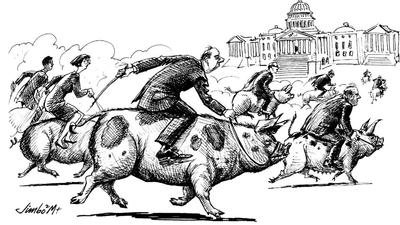 With the latest, $900 billion covid-stimulus deal now done (which unless the Democrats win the Georgia Senate runoffs in 2 weeks will be the final covid stimulus bill according to Goldman), attention turns to what's actually in it.
First: the good news – the bill will include a fresh round of benefits for small businesses as well as the usual one-time pittance for peasants, amounting to a $600 check. Here are the key components:
[…] Of course as with any fiscal stimulus that is nearly $1 trillion, there will be lots of pork and other shady components, thrown into the bill. One such questionable kicker is the $15 billion in payroll assistance to airlines that will in theory allow them to return more than 32,000 furloughed workers to their payrolls through March 31, according Reuters. In reality, since there is no enforcement clause, we wouldn't be surprised if many of the airlines continue to quietly layoff employees and use the funds to repurchase stock.
Continue Reading at ZeroHedge.com…