by Mac Slavo
SHTF Plan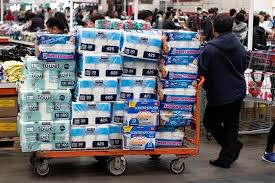 The mainstream media is continuing to be a good puppet of the ruling class by panicking the population into a frenzied state of fear. As we have already seen, when people panic, they hoard toilet paper, and that's happening again, causing grocers to reinstate purchase limits.
In a statement to USA Today, Kroger said they have "proactively and temporarily set purchase limits to two per customer" on items including toilet paper, paper towels, disinfecting wipes and hand soap. The limits went into effect about a week ago, the grocer chain said. These limits apply to both in store and online purchases on these items.
H-E-B, which manages more than 400 stores mostly in Texas, imposed limits as of Oct. 31 on toilet paper and paper towels to stores in Border, Central Texas, Gulf Coast and San Antonio regions, according to a link on its website tracking purchase limits.
Continue Reading at SHTFPlan.com…