by Pam Martens and Russ Martens
Wall Street on Parade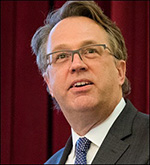 The New York Fed, the unlimited money spigot in times of need by Wall Street's trading houses, has been conducting meetings with hedge funds to get their input on the markets. More on that in a moment, but first some necessary background.
Millions of Americans have seen the movie The Big Short, based on the Michael Lewis bestselling book by the same name. A key character in the movie is Mark Baum, played by Steve Carell. The character is based on Steve Eisman, who, during the financial crisis of 2008, was employed at FrontPoint Partners LLC, a hedge fund unit of Morgan Stanley. As widely acknowledged, FrontPoint was shorting subprime residential mortgages that were packaged into CDOs (Collateralized Debt Obligations). Shorting means to make a bet that a financial instrument will lose value. FrontPoint was, in fact, hoping American homeowners would be foreclosed on and their subprime mortgages would become worthless.
Continue Reading at WallStreetOnParade.com…