from Kerry Lutz's Financial Survival Network
GR Silver Mining (TSXV: GRSL OTC:GRSLF FRA:GPE) is pursuing 100M+ silver ounces through the discovery and advancement of high-grade silver projects in the Rosario mining district in Sinaloa, Mexico. And the company is off to an excellent start as it already has a resource of 40M silver ounces. GR Silver is fully funded for at least 2 years of exploration and resource expansion drilling at its two 100% owned San Marcial and Plomosas projects. The company will see a steady stream of drill results over the next two years as well as an updated resource estimate in Q1 2021. In this interview, President and CEO Marcio Fonseca provides an update on GR Silver Mining's progress.
Click Here to Listen to the Audio
Sign up (on the right side) for the free weekly newsletter.
0:00 Introduction
1:32 Making progress amid Covid-19
2:25 GRSL's investment value proposition overview
3:17 Ongoing drill programs
6:48 Pursuing 100M+ silver ounces
7:23 Geological model for San Marcial & Plomosas
8:15 Permitting
8:59 Best case scenario for potential production
11:59 New board member Jonathan Rubenstein is former MAG Silver Corp. chairman
13:18 La Trinidad project: moving towards acquisition
14:29 Treasury and burn rate
15:35 Final thoughts
Latest GR Silver Mining presentation: https://grsilvermining.com/wp-content/uploads/2020/10/GRSLCorpPresentation_OCT_2020.pdf
TRANSCRIPT:
Bill Powers: Welcome back into Mining Stock Education, I'm your host Bill Powers. Today you are going to be hearing an update from GR Silver Mining, the ticker symbol is GRSL in Toronto and in New York or in the States like myself, that's where I bought my shares. You can find it under the ticker, GRSLF, website is grsilvermining.com. We're getting an update from the President, CEO, Director and Co-Founder Marcio Fonseca. Marcio, welcome back onto Mining Stock Education, it's been a few months and how have you been able to progress with the COVID restrictions and all that comes with that?
Marcio Fonseca: Thank you for having me here again and how we're coping with this pandemic, all the key executives of the company are fluent in Spanish and we've been putting in place a plan that, every month there's a person that goes to Mexico and they come back. We follow all the necessary quarantines to go back to the office. So far, we've been doing this since late August and actually I'm going to Mexico end of next week for two weeks. So, we like to be close to the people on site and being fluent in Spanish help us to manage the day-to-day of 20 geologists at the project today.
Bill: Wasn't it something like five geologists last time we spoke?
Marcio: Oh yeah, a lot has changed.
Bill: Okay. So, I'm sure there're some listeners that maybe aren't as familiar with the story. So, perhaps we could just start by recapping the high level, general value proposition of why somebody might consider investing in your company.
Marcio: The business proposition here was from the beginning and still is to control key assets or the most important assets, silver and gold in the Rosario Mining District, that includes controlling assets that can be even close to production decision. We've drilled holes with infrastructure with the permits. I'm referring to this because the last acquisition was Plomosas we bought from First Majestic and today we control 100%, was a former lead-zinc mine, but we are discovering silver and gold. Together with the existing, all the assets, we can combine everything in a much larger portfolio.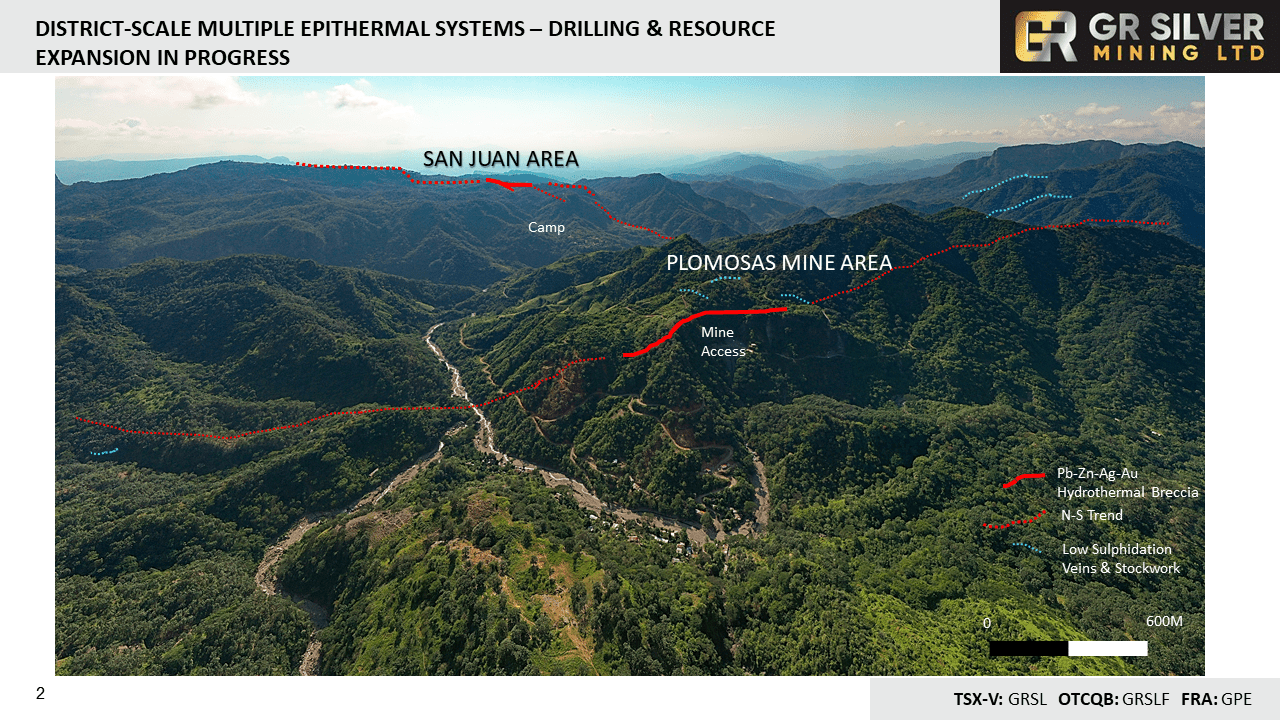 Bill: Remind us of the ongoing drill programs that are going on right now.
Marcio: So, we have two ongoing drill programs, particularly we are doing now at Plomosas, because the Plomosas, that's the asset we bought from First Majestic. We want to be the first company to put the 43 one-on-one resource report in place. Although we have 563 historic and recent holes, nobody ever created a report, which is important for a company like a junior mining company like GR Silver. So, what we're doing is that, during the program we have the surface railing and we're about to start another ground drilling program.
The surface really is to expand the footprint of mineralization, the veins and the breccias along the strike at the Plomosas area and the San Jaun area. Two areas with multiple veins and the underground drilling is to test extensions of a recently discovered new zone, we call the zone 775, 775 refers to the elevation where the zone is. We are excited because it's wide and the grade is high, can be a potential area for bulk mineable, which means potential low cost and very easy to add tons and consequently ounces of silver and gold.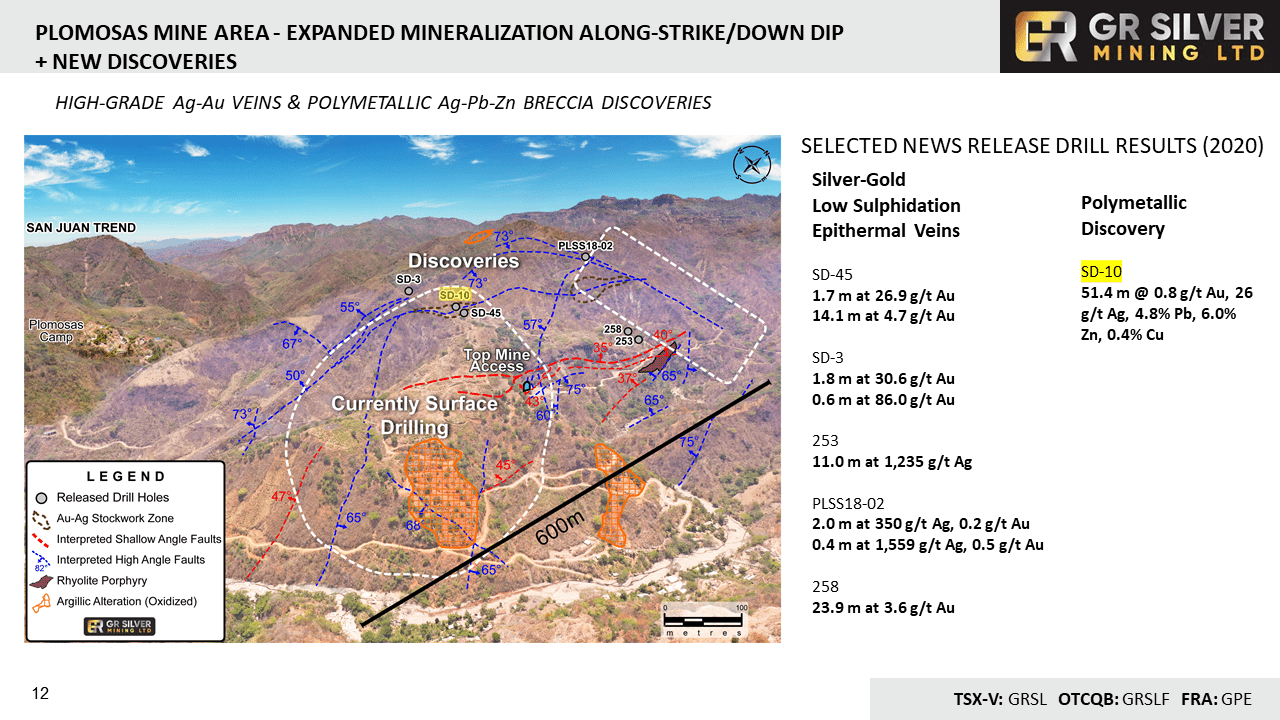 Bill: This is a past producing mine, but your team is really applying a different geological model to it in your exploration, aren't you?
Marcio: Yeah, it's the team that a lot of individuals, senior geologists working for us have worked in big mines, big projects. It's not uncommon to have an old district and have discoveries, history tells that big company selling projects that becomes later big mines. We are leveraging on a lot of data saving money, for example, 563 holes. You're talking about a hundred thousands meters of core, of drilling. How long will it take, how much money would take to do that saves time?
But the history at Plomosas is important for the audience to understand it was a small lead-zinc mine in the late nineties when silver and gold price was very low. So, there's a different story and they left not only, they left behind a lot of material that wasn't really economically because of the lead and zinc great at that time, but they didn't bother looking at the gold and silver. They used to produce a concentrator lead and zinc. Looking at the data, all the extensive database we have now, we are coming across banks with a lot of silver and gold. And now we are taking an approach here as a district, because at district we can make a much bigger story and add value to the shares.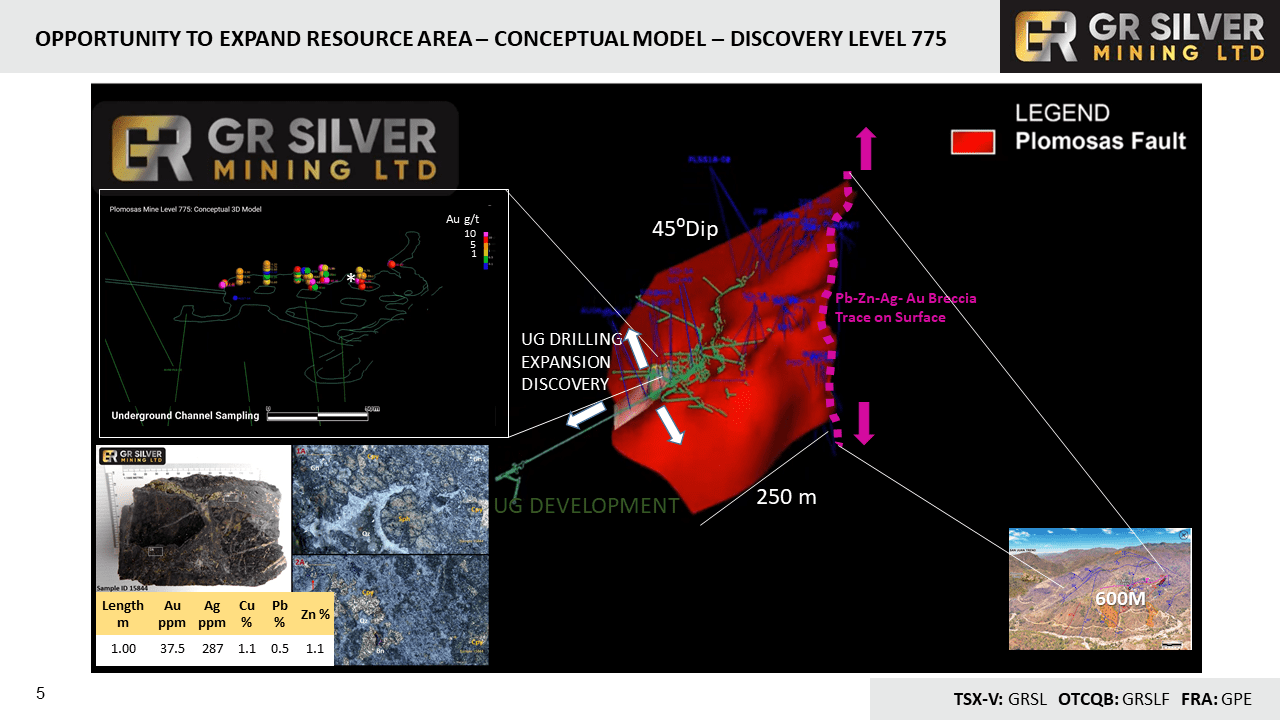 Bill: So, of the 20 geologists you have there on site, how many are actually going through core to kind of just visually look at it to decide what you're going to send to the assay Lab?
Marcio: Yeah, the geologisats are going through the core that was drilled before, because some of the core was not simple. You need to really look at these in detail, but they also are looking at fresh new core. So, probably I would say you have six to seven because you need to remember that they have two areas, you have the San Marcial as well. Right now we have an exploration team, they are working in the tunnel that we finished. So, we have three geologists there, we have a resource geologist, GIS, all these together help all the structure. That's important to create the information and we consistently release news.
Bill: And you're having a set the goal of Q1 of next year for your first resource for Plomosas, you have about a 40 million ounce silver ounce resource at San Marcial. Can I pull a forward looking statement out of you? What are expectations or hopes for this resource?
Marcio: Well, our internal target is to get out together, of course, take into account the existing 40 million ounces, close to a hundred million ounces of silver or some sort of equivalent because it's very uncommon not to have other elements, like zinc, lead, copper or even gold, polymetallic deposit or veins. That's the document.
Bill: And the model conceptually at this point would be underground, of course.
Marcio: The model would be the following, we have the SanMar Seattle, can be open pit, potentially open pit, which is five kilometers from the Plomosas. That's the one that has all the permits that infrastructure promotes is more likely to be on the ground, but they can take into account. The promoters have already eight kilometers of tunnels there. We don't need to excavate the tunnels, so saves money. So, we can go underground and map the walls and sample. We are collecting samples, we are validating existing samples, we have a database now that is more than 5,000 underground samples that we are going to put this out together. We have engaged a qualified person. Actually, I'm going to Mexico in 10 days for him to start looking at the data as part of the ongoing work in resource estimation, modeling,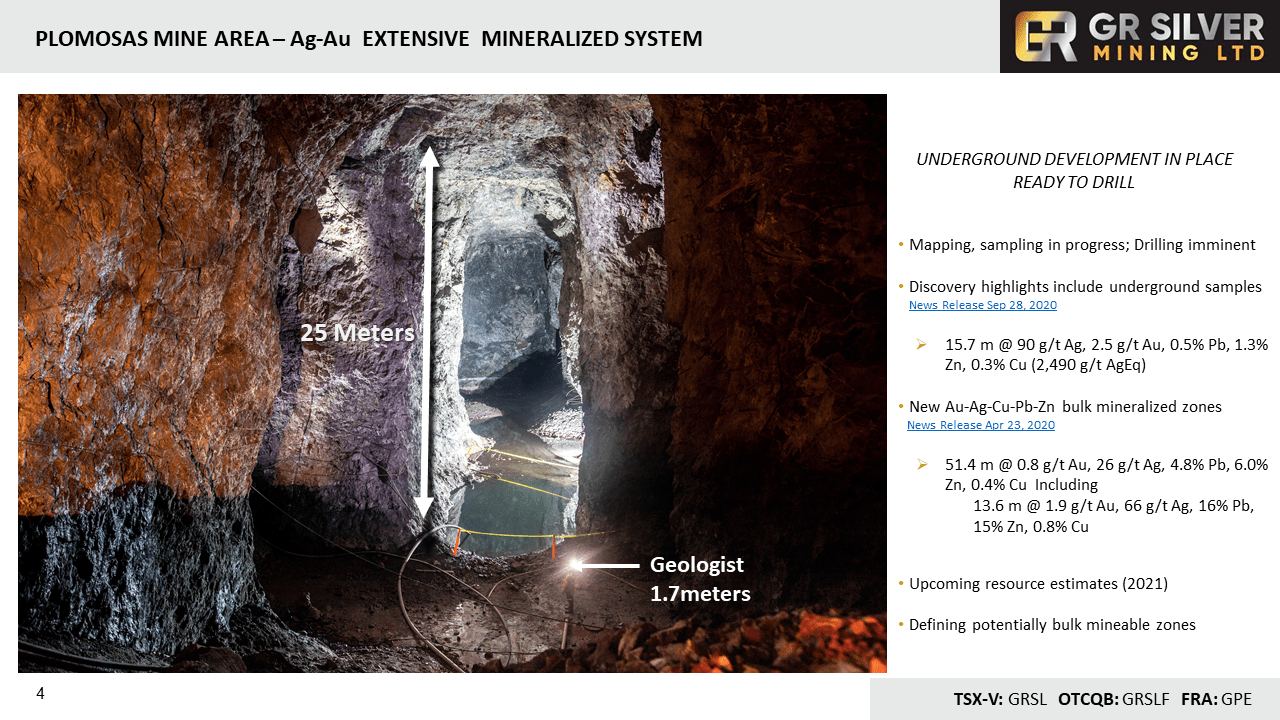 Bill: You have a huge hurdle already accomplished at Plomosas, that being the permits already in place, are you able to kind of just take on San Marcial as a little brother and kind of bring it in under that permit? How does that work in Mexico?
Marcio: It's possible, of course there are some sort of steps to be taken. Well, it's easier because you can approach the environmental agents saying that for San Marcial, you only need the mine permit. You're not going to process in the material there and being so close, we can work in a way that we can connect those two concessions. One can inherit all the permits from the other. It's not uncommon to do that, again can save time and reduce the time to develop a much shorter timeline.
Bill: So of course, CapEx and cost of production, all of these things aren't known, but could you give me a best case scenario, another forward looking statement, but production, four years away, five years away, if all the stars aligned?
Marcio: If our stars align, we see the timeline to be very close to our potential production decision in two and a half years
Bill: To two and a half years, okay.
Marcio: Then, of course their environmental macro environment, environmental conditions, the economics, all of this plays a role in this. Why I'm saying that, because as I said, Plomosas has the permits. We need to update the resource and we are starting to discuss it with some engineers to do more test work, to do some underground designs and other things that are preliminary to do a economic assessment. We are starting to work in some subjects that are important to support, not coming future decision on production.
Bill: So, the business plan would be possibly to bring it into production, not just to sell it off then
Marcio: The business plan. First of course, more important to add value to the investors, right? And everybody to have a good return. Some of the people have already had that in the first run, but it's first to increase the amount of ounces, because as we get close to a hundred million ounces, you can correlate that, that hundred million ounces of silver, likely to around 1 million of gold, a little bit more. So, equivalent people start to realize that we are in a situation that we control a district and have a sizeable, even inventory of ounces. We present those ounces are very attractive with good margins because not only the CapEx can be low, because a lot of things are already there such as a power line, roads and camps. But also to be in an area that is not remote and potential, the OPEX operating costs can be lower and have a good margins. Everything is great in a combined project that is attractive maybe for takeover, but that going into production is not out of the table. Let's put that away.
Bill: And you have the capital market savviness and shareholders to possibly bring something like that into fruition.
Marcio: For sure, like the last bought deal, we went to the market to raise 5 million Canadian dollars. We ended up raising nine, including First Majestic that required to participate in the financing, while the other big participants were resource funds. People who understand the business and do their own due diligence to understand that there's something material as a project and have access to that kind of really support is important. My background and all the key shareholders and directors is very closely related to financing capital markets, doing that equity finance and building companies. So, these all together can be a good combination
Bill: On that note, you added to your board. So, perhaps you should share a little bit of more of who you added to the board, because that gentleman sure knows how to raise capital for a silver project.
Marcio: So the last, the latest additions are Jonathan Rubenstein. He was the former chairman of MAG Silver, there was also a lot of successful transactions in big projects and buying, selling assets is public domain. The other one was Laura Diaz, she's well known in Mexico, a top mining lawyer. At some stage in her career, she became the general director of mines for the country. So, that's the kind of network, the combination people with a lot of exposure in silver capital markets, money in Mexico, how to operate. I believe the last time we spoke, we had already added Eric Zaunscherb, he's a well known mine analyst in Toronto, he's also invested in the company and he's a director. So, as part of the evolution of the company, we are getting more there and create a more solid, not that the other board was not solid, but it's a different set of skills that's required as we get to this level of exposure today. When we met for the first time, I think we are trading probably a 1000,000, 150,000 shares. You're hitting 400 to 500,000 shares per day.
Bill: La Trinidad, can you give us an update on that? Are you progressing towards acquiring this? What's the update.
Marcio: Yes, we are much more advanced, of course. From the 20 geologists, I have five they're working there, breaking rocks, looking at old workings, collecting samples, mapping, because one of the key points in the decision to close the transaction is a technical due diligence to confirm that you see the upside opportunity there to add more discoveries, particularly because there's a small portion of that concession that's just between Plomosas in SanMar Seattle. So, we can finally combine everything else together. We have advanced all the legals and financials, I'm very positive about the potential closing of this by December. And again, it's important to refer that there won't be any cash payment to the vendor, it's going to be a royalty type of deal. We could buy the company that controlled the concessions in Mexico, the current owner would be entitled to a royalty, but we are going to assume some small payments to the Mexican government to relate to the taxes.
Bill: Let's go over treasury and burn rate, what are we seeing here?
Marcio: So we are a little bit below C$8 million now with all the money that we spend even really have three drill rigs on site, on surface, plus one guy underground. Burn rates still on a monthly basis, probably the range from 300, 400,000 dollars a month. We are picking up because you're bringing about real risks, right? And, but still cash position, fully funds the company, at least for 12, a little bit beyond 12 months. And like we discussed probably earlier, we have these warrants and options in the money. They are likely to bring probably 6.5 to 6.8 million Canadian to the treasury between now and next year. Today we have seen them on analysts covering the company, there's Coverage, you have more analysts doing their homework to go over. They have three or four or five houses all in us, so the exposure is there in the capital markets.
Bill: So could we say 24 months fully funded? Would that be a safe statement to make?
Marcio: I would say close to, yeah. All the things we need to do and we want to do yeah.
Bill: Well Marcio, in conclusion, what more should investors know about GR Silver's progress?
Marcio: First, of course, more important all the key executives of this company have a lot of skin in the game. Not only time, but investment in this company, pretty much only doing this. I can say based on my experience and other executives experience that we are for sure, the first company ever to come throw all these assets together, nobody has been searching for a position, that's a big plus. Share prices are very attractive today based on the way the market's broken, but the fundamentals are there and we don't have any debt and have access to capital and have cash in the bank is a big plus. The company control in our district gives the investors, not only the opportunity for potential re-rate when you complete the resource, but we didn't talk much, but to have series of new veins that we still need to drill around.
Bill: So lots of exploration upside.
Marcio: That's important to refer to them as well.
Bill: Well, the website again is grsilvermining.com, the ticker symbol is GRSL in Toronto and GRSLF in New York on the OTC. Marcio, thank you for the update today.
Marcio: Thank you, Bill.