[Ed. Note: And why does anyone listen to Bill Gates? Who is Bill Gates?]
from Zero Hedge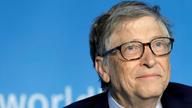 Bill Gates sat down with WSJ Editor in Chief Matt Murray for a virtual chat during the paper's CEO Council, part of the paper's nascent push into conferences and events.
This, of course, is just the latest installment in Bill Gates' campaign to convince western governments to essentially "step up" and finance a global mandatory vaccination campaign, something that would cost trillions of dollars, given the 7 billion-plus people in the world.
And he doesn't hold back: Gates acknowledged that Western countries are "far ahead" of Russia and China when it comes to developing and testing various vaccine candidates – though China seems to draw nearer by the day – and if the leading candidates prove successful and win their FDA emergency approvals before year-end, the west could see life return to 'some semblance of normal' by the second half of next year.
Continue Reading at ZeroHedge.com…